Modular Computing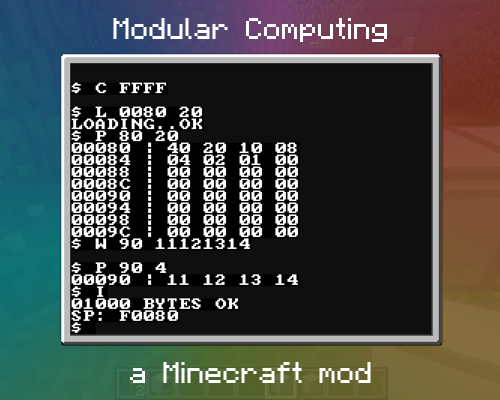 This is what I believe is my first public Forge mod, worked on in 2013 - twice! This page will focus more on the second iteration, as the first one never got to anything functional.
I've always missed the simplicity and automation-oriented design of RedPower 2's FORTH-based computers. This mod was an attempt to create something similarly low-level. However, it had a terribly designed CPU, which, combined with OpenComputers being released not long after I started working on its second iteration, effectively stopped the mod from being worked on. (Maybe one day...)
From the original Minecraft Forum post (italics - 2017 commentary):
The main features of the mod so far:
Efficiently emulated CPUs (should be able to run about 500-700 per server at once without major lag) with a custom assembly language that was pretty bad
Terminals with Unicode support and a 256-color palette OpenComputers has both, hooray!, letting you be far more expressive than with ASCII alone
Paper tape, manually editable, readable with bundled cables and readable/writable with both ComputerCraft and Modular Computing computers!
Musicboxes that play tunes depending on paper tape data I miss them a lot - useful even if you can't program!
Hardware Echo puts an end to typing lag by typing the characters on the client side as soon as you type them! I'm surprised more computer mods didn't take lessons from terminals.
Fully open-source! It also comes with a vibrant development community what do you mean, 2013 asie?.
Planned:
More storage tiers
Direct audio playback via cassette tapes The one part of this mod which survived, seen later in Computronics and Charset
Proper software for the CPUs (so far and to this day we only have a Monitor)
Graphics cards, courtesy of ds84182 - the author of CCLights2!
Downloads